QUALITY above all

In 2007 the Company have been honored with the "Olympus of Quality" Russian national award for prominent achievements in the quality of business, quality of products and services, thus earning the appreciation of its activity results. We are proud of it and are not going to stop in out achievements.
QUALITY MANAGEMENT SYSTEM
At our business we apply ISO 9001:2008 certified management quality system.

ISO 9001:2008 CERTIFICATE
The certification is carried out by TUV Cert TUV Rheinland InterCert Kft certification body in compliance with the auditing and certification TUV Cert procedures, and certifies that the Company applies quality management system corresponding to the above standard regarding PCB manufacture and assembly.
FR4 MATERIAL CERTIFICATION
The material used to manufacture PCBs is certified by the Russia's GOST R Gosstandart  certification system. The Company is presented with this Certificate based on the Test Protocol #1577/С of 31.05.2007 issued by the electrical insulation and foiled materials test laboratory attached to the independent non-commercial research center NITc "Test" (registered under # РОСС RU.0001.21MO59).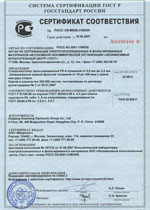 The Company applies pass-through validation quality of the products manufactured. The validation includes interoperation control, completing items quality control and the final functional control.
 The unified quality laboratory and centralized control services make it possible to analyze data on production defects and their timely elimination so as to ensure the main production parameter that requires continuous and substantial investments, i.e. the stability in quality of products manufactured. Availability of the Company's  own repair service makes it possible for the Company to carry out repair and preventive operations on the operating equipment in time.
 Apart from quality laboratory the Company makes use of a powerful test center equipped with installations to perform the following works:

vibration tests
climatic tests
water-resistance tests
electromagnetic field influence tests
failure tests (life-limiting failure tests)
shock tests.
One of the most imprortant instruments for achieving quality is the professionalism of the team working with the Company. "Resonit" realizes a program of staff training and development.

All the above measures allows us guarantee the high quality of the products manufactured.
 TESTIMONIALS BOOK
We appreciate our customers feedback. Should any claim arise regarding PCB assembly quality, quality of the account department operations or delivery service, or should you have any suggestions please send them to our quality vice general manager Mr. Sergey Borovkov or make use of the testimonial book.
Unfortunately none of the acting manufacturing is guaranteed from production defects. Should you find а defective product and in case we accept the claim on the issue, the Company will replace and/or engineer the defective product within the standard term (as of the day the claim is accepted) regarding the production line where the defective product has been produced.